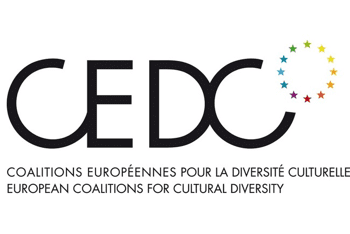 As Coalitions for cultural diversity were developing on all continents, weight on the negotiation of the UNESCO Convention on the protection and promotion of the diversity of cultural expressions, the Coalitions for cultural diversity in Belgium, Germany, France, Slovakia and Spain decided in 2005 to create an alliance : the European coalitions for cultural diversity (CEDC).
The objective of this alliance is to keep European institutions informed of the expectations and needs of the creators and the culture professionals, not only with regards to the UNESCO Convention, but also on any other subject related to culture and under European competence, particularly trade negotiations.
The European coalitions meet generally twice a year and regularly meet representatives from the Commission and other European institutions.
They have specifically made a stand:
To welcome the adoption of the UNESCO Convention for the protection and promotion of the diversity of cultural expressions in October 2005 and its rapid implementation in March 2007, after it was ratified by the European community and the 12 member States in December 2006,
To call for a massive ratification of the Convention, particularly by the EU member States which have not done so yet,
To contribute to the first European Forum for Culture which took place in Lisbon in September 2007,
To alert on the fact that audiovisual services are included in the Free Trade Agreement negotiated between the EU and Ukraine and on the widespread EU practice to attach cultural cooperation protocols to bilateral or regional trade agreements (Korea, Andean community, Canada, India…)
The European coalitions for cultural diversity remain extremely vigilant on the implementation of the UNESCO Convention by, and within, the EU. They also defend the independence of the cultural sector on the international scene.
To this day, there are 14  European coalitions (Austria, Belgium, France, Germany, Hungary, Italy, Ireland, Portugal, Slovakia, Spain, Switzerland, Sweden, UK and Turkey).