On 15 June, the French Coalition for Cultural Diversity presented the 2020 and 2021 Diversity Prizes in the SACD garden.
Nabil Ayouch, the 2021 winner, received an honorary prize in recognition of his career as a filmmaker and activist. The director is indeed a committed filmmaker in Morocco, despite protests and bans on screenings in the country. Founder of the first Moroccan Coalition for Cultural Diversity, the filmmaker is also committed to youth and has initiated several socio-cultural centres. Yesterday, the director received a caricature from the cartoonist Soulcié.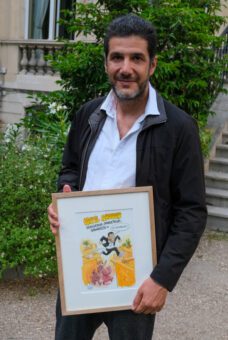 In 2021, the Coalition also rewarded the association Principe Actif for its project "Voyage Autour de moi". Founded in 2001, the association is led by Stéphanie Sphyras, director, scriptwriter, actor and Benoît Nguyen Tat. "Voyage autour de moi" is a three-part project: documentary writing, content via the Tik Tok application and a play. It was born out of a meeting between the association's artistic team, a group of so-called "disadvantaged" young people from the 93 department and their educators. The play allows the group of young people to speak out by writing and performing a work that evokes the questions that arise during adolescence, while the documentary follows their progress.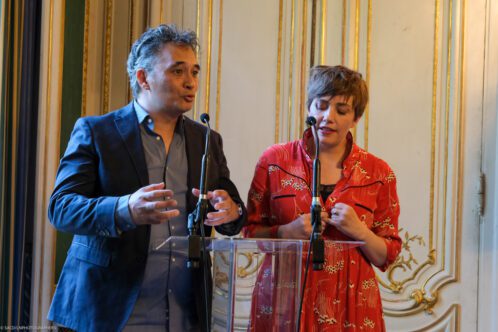 In 2020, the honorary prize was awarded to Audrey Azoulay who received the award from the President of the Coalition at Unesco.
In parallel, two associations were awarded. The choreographer, dancer and artistic director Bintou Dembélé received the prize for her company Rualité, which since 2002 has brought together dancers from the street dance scene, whom she has brought into dialogue with academics and various personalities united by the desire to explore new forms of engagement in performance. Combining dance with multiple influences, live music and song, Bintou Dembélé's performances explore ritual and bodily memories, question gender, and examine the wounds of the past – individual or collective – as well as the possibility of escaping them through strategies of reappropriation and marronnage. As an artist associated with the Ateliers Médicis in Clichy-sous-Bois and Montfermeil, Bintou Dembélé created "Palabre" in 2020 with their support: a project for the web in which the artist invites various speakers to express themselves on the subject of the knowledge and artistic practices of the periphery and the margin.

Marie José Justammond was rewarded for the festival "Les Suds" in Arles, which she created in 1996 in order to affirm the identity of the countries of the Mediterranean and, more broadly, of the Suds in the context of an international festival held over eight days in July in Arles. On this occasion, concerts of all musical styles are held every evening and during the day, masterclasses on singing, music and the art of living for beginners and professionals take place.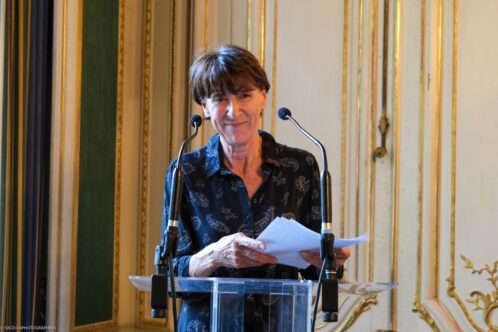 Since 2011, the Coalition has been awarding the Cultural Diversity Awards to highlight initiatives and professional and artistic careers that encourage and promote cultural diversity.
Previous winners :
2020 : Audrey Azoulay and Rualité
2019 : Costa Gavras and Clowns Sans Frontières
2018 : Pierre Sellal and the Festival Nuits Métis
2017 : Véronique Guèvremont, Ivan Bernier and the Festival Sens Interdits
2016 : Silvia Costa, Jacques Toubon and the Caravane des Dix Mots
2015 : Michaëlle Jean and the association Art éclair
2014 : Thomas Ostermeier and the Observatory of Cultural Diversity
2013 : Cristian Mungiu and the association Voix de Femmes in Bruxelles
2012 : Raoul Peck, Louise Beaudoin and l'ASPAS
2011 : Jack Ralite, Jean Musitelli and the Festival Musiques Métisses
Press contact in France :
Agnès Mazet – agnes.mazet@sacd.fr