The European coalitions for cultural diversity, with the participation of the European Platform on the potential of cultural and creative industries
invite you to a Conference
Culture, an added value for Europe
Tuesday January 31st, 2012 from 12:00 to 14:30 (lunch)
Library Solvay (Rue Belliard 137, 1040 Bruxelles)
What do creators and professionals expect from European policies? How could the development of creative and cultural industries be better fostered and sustained in Europe? Professionals and experts will give their point of view on these issues and put forward some proposals for a more appropriate and efficient policy in Europe.
PROGRAMME
11:30-12:30 : Registration and lunch
12:30 : Opening speech by Marie-Thérèse Sanchez-Schmid, MEP, member of the Culture Committee, European Parliament, and author of the report « Unlocking the potential of Cultural and Creative industries » (France)
12:40 : Carole Tongue, President of the UK Coalition for cultural diversity and former MEP will moderate the debates with:
Dirk de Clippeleir, manager of the concert hall l'Ancienne Belgique (Belgium); Maureen Duffy, author and poet (UK); Antonio Masip Hidalgo, MEP, member of the Legal Affairs Committee, European Parliament; Ludovic Lagarde, stage director and manager of la Comédie de Reims (France); Metin Kazak, MEP, member of the International Trade Committee, European Parliament (Bulgaria); Yvette Masson-Zanussi, Manager, European Forum for Architectural Policies and President of the Platform on the potential of cultural and creative industries (France); Pascal Rogard, President of the French Coalition for Cultural Diversity (France); Fernando Vendrell, film and TV director and producer (Portugal)
14h20 : Closing speech by Doris Pack, MEP, President of the Culture Committee, European Parliament (Germany)
14h30 : Exchanges, coffee
Interpretation: English and French
REGISTRATION : Martine Schnitzler : 00 33(0)1 40 23 45 14 or cedc@coalitionfrancaise.org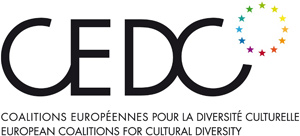 The European coalitions for cultural diversity is an informal network of 13 national associations representing the diversity of the professional cultural organizations. They encourage the European institutions to adopt a European policy more favorable to culture and the diversity of cultural expressions. For more information
The European Platform on the potential of cultural and creative industries was founded three years ago on the initiative of the European Commission in order to foster dialogue with civil society. The Platform gathers nearly 40 federations representatives of the European cultural sector. It has issued two sets of recommendations presented at the European Cultural Forum in Brussels in 2009 and 2011.
Credit © Nicolas Lobet/SACD